About Us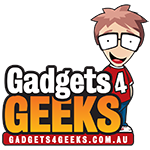 Welcome to Gadgets 4 Geeks!
Thanks for stopping by. We offer a great range of geeky products and accessories for all gadget lovers at affordable prices. Have a look around, take your time - if you can't find something you like then let us know so we can keep bringing you the coolest things from around the world.
Gadgets 4 Geeks is Australia's leading retailer of mobile phone and tablet accessories including protective cases and shockproof covers, wireless chargers, screen protectors, desktop stands, bluetooth audio transmitters and receivers, fast chargers and much more!
We also stock a large range of products from popular brands like:
OtterBox

Samsung

Spigen

Lifeproof

Orzly

Baseus

...and many more!
Company details
Gadgets 4 Geeks Pty Ltd
ACN 151 789 285
ABN 69 151 789 285

Telephone: +61 2 8033 5570
Website: http://www.gadgets4geeks.com.au
For information relating to our store location, opening times and other contact information, feel free to jump across to our Support section.