Customer ratings for Avantree Neetto Height Adjustable Desk / Laptop Tray / Sofa & Bed Table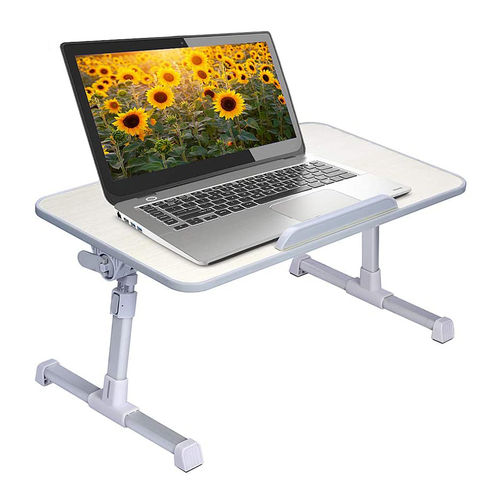 Number of ratings: 7
Average rating: 5
Great buy
from Anonymous on 11/10/2017
I have been searching for this type of product for a long time. Both in stores and online. Most laptop tables are much too big, too heavy, and clunky to collapse and/or adjust. And, almost none are adjustable or hold has much weight. I've not had this long, but it's the best one of tried by far to date. Super light, sturdy, nicely finished, and flexible (I used it for my laptop, ebook reader, and phone). I have RSI and it has saved my hands and the comfortable angle of the tilt means it's ergnomically sounds. Great product. Considering buying it for family and friends too.
Excellent product
from Anonymous on 20/08/2018
Extremely prompt delivery. What a wonderful table, so light and multi adjustable. I purchased it to use with my laptop and phone but can't wait to use it in my armchair for handicraft work while watching TV. Works well as a TV dinner tray. What more could you ask for.
Excellent
from Anonymous on 8/09/2018
Exactly like adverstised. Received the product within a few days
Excellent
from Anonymous on 21/09/2018
Fast delivery. Item is exactly as advertised
Great Design
from Anonymous on 26/10/2018
Bought this for my kids and the loved it. Great design, can adjust the height, the angle. Portable, easy to store.
Fabulous Table!
from shazgoldcoast on 22/02/2020
I love this adjustable Avantree Laptop/Tray Table in Large size. I'm using it daily for everything from doing paperwork to using my laptop & even snacks.
It fits on my XL comfy recliner chair, plus it is stable, sturdy & easily functional.
I highly recommend it! You won't be disappointed.
Great alternative to a standing desk
from B-Review on 29/05/2020
Definitely recommend to purchase this when it is on sale. I thought this product looked a bit cheap for a $89.95 stand. HOWEVER, I use it regularly & it is much more competitive in pricing than majority of sit/stand laptop stands (which is what I was originally looking for), I must also commend its compact size. The articulating viewing angles has proved useful & the fact that you are also provided with rubber stoppers, so that you do not have to use the lip, is a nice option.